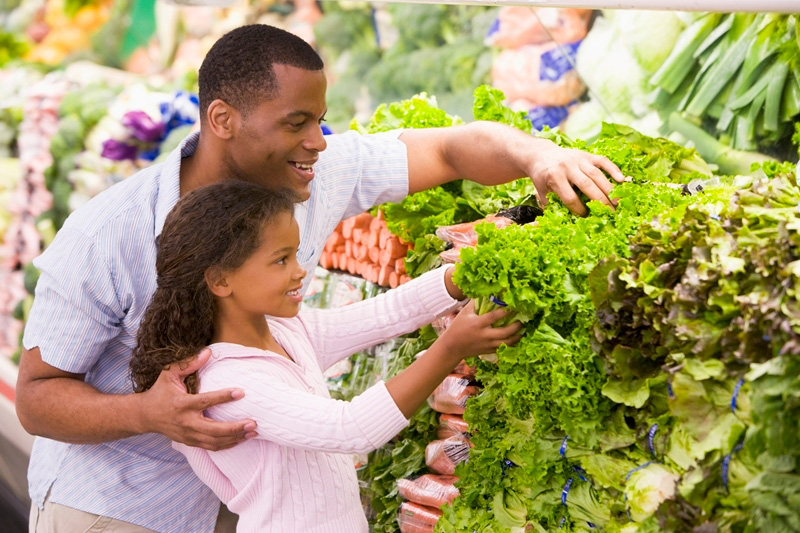 What we eat is fundamental to our health. A diet of foods high in sugar and fat can lead to the development of chronic disease and a shorter lifespan. Access to fresh fruits and vegetables is essential to the prevention of disease as well as the management of obesity, diabetes and other chronic diseases.
A large percentage of people living in Lowndes, Macon and Montgomery counties have low access to food and/or are food insecure. Because of this, interventions intended to increase access to fruits and vegetables have been a focal point of the REACH cooperative agreement.
The Wellness Coalition (TWC), with assistance from the River Region Food Policy Council (RRFPC), has developed a Community Food Assessment to identify potential food-related obstacles in REACH census tracts and the possible impacts of these obstacles on both the local food system and population health.
The Assessment Process
The RRFPC created a survey focusing on the major issues of the community and randomly administered it to 273 individuals attending high-profile community events in each of the REACH counties. Participants were asked to fill in their response to an open-ended question about their go-to food choices and to numerically rank six potential food problems in their community in order of importance.
Participants were asked, "When you are tired, lazy, broke, or in a rush, what is your go-to meal to purchase or prepare for yourself or for your family?"
Approximately 80% of respondents answered the open-ended survey question with an applicable food item answer while several provided multiple answers to the question. The total of 338 responses (see Table 1) varied from healthy to unhealthy food items and were classified into eight general food categories. Of the applicable responses:
24% were related to junk foods including pizza, burgers, fries, and candy.
33 responses specifically noted a fast food option as a meal of choice.
22% of the responses included healthy food items such as salad, vegetables, and fruits.
The other category-related responses are as follows: store bought food (12%), breakfast food items (10%), meat products (10%), and starch products (9%).
Ranking Problems In the Community
Survey participants were asked to rank six food problems in their community. The resulting rankings were:
"People are hungry/don't have enough food to eat"
"School food is not nutritious."
"There is not enough fresh and local food available."
"Transportation to good food is hard to come by" and "People don't know how to cook/Don't cook" tied in their ranking
"Fresh and healthy food is not tasty"
Interviews
Along with this survey, the RRFPC randomly selected and interviewed 17 representatives from the five components of the Food Cycle (illustrated in Figure 1).
RRFPC questioned two Producers, three Processors, four Distributors, five Consumers, and three Waste Recoverers who were all from or serving the REACH counties.
Recurrent themes came up in their individual interviews. For instance, there was general agreement among all representatives that their respective successes required changes in community education about food, improved system infrastructure, increased access to food and enlarged perceptions of healthy food.
Despite some limitations in data collection for the different surveys, the answers allow for an assessment of food and food issues in the community.
What This Information Tells Us
The answers to the open-ended question related to go-to food choices indicate that social, environmental and economic factors still steer a majority of people toward fast food or junk food with high fat, salt and sugar contents.
Yet, even with this trend there is a larger than expected percentage among those interviewed who are leaning toward whole foods and healthier food choices despite limitations of time, money and available choices.
This same group of people, on average, felt that the statement: "Fresh and healthy food is not tasty" was the least of their food-related problems. It's this desire for fresh fruits and vegetables rather than processed, fast and junk foods that the representatives of the local components of our Food Cycle feel is necessary to keep our community food system sustainable.
REACH interventions and the partners that sustain them are striving to continue the positive social, environmental and economic shifts that appear necessary in order to improve our local food system.
Through programs such as Community Garden Training, Healthy Corner Stores and positive public advertisement of healthy food choices and their effects, small yet successful steps have been taken toward lowering obesity rates, increasing longevity, and making improvements to a sustainable Food Cycle.
Continued partnerships at the community level can revolutionize approaches to health. However, it is everyone's responsibility, across all parts of the food system, to ensure progress toward a healthier River Region.