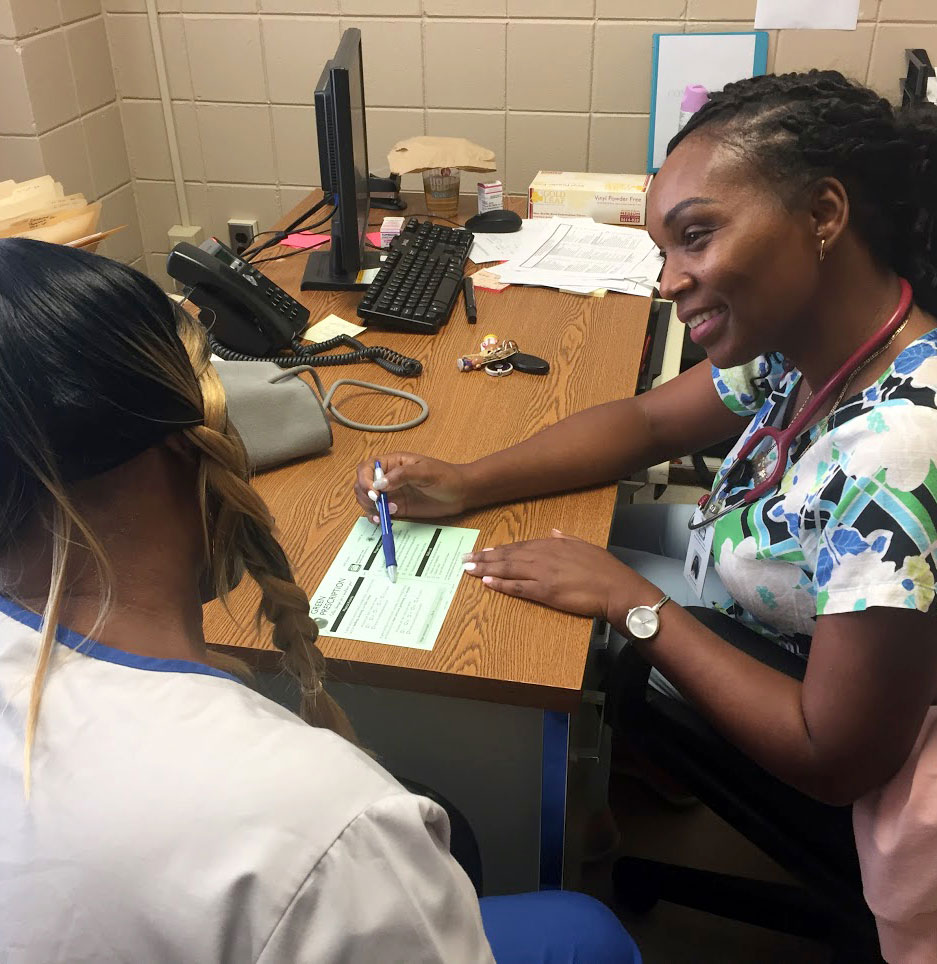 At the beginning of 2017, Montgomery Area Mental Health Authority (MAMHA) agreed to incorporate the Green Prescription intervention (Green Rx) into their clinics in Montgomery, Lowndes, Elmore and Autauga Counties to enhance the care of their patients. Through these four clinics, MAMHA provides a medical home for those who seek to manage medications and behaviors that affect their mental and physical health.
What is Green Rx?
A Green Rx is a written prescription for nutrition and exercise changes given by a doctor or clinician. It is an emphasis on behavior modification tailored to the individual patient.
Based on where the patient is with their level of exercise and fruit and vegetable intake, the doctor or clinician gives the patient a prescription for behavior change. The doctor or clinician follows up with the patient during future office visits in order to determine whether the prescription is being followed. Changes in health indicators, such as patient weight and blood pressure, are tracked.
Porchia Jones, Nurse Coordinator for Outpatient Services at MAMHA, manages the clinical care that staff provide to patients in these counties. She offers her thoughts below on the Green Rx process, what it has meant to MAMHA, and how it will continue to be of use.
PORCHIA: The Green Rx process is important to our system of care because it aids us to educate our consumers on health and wellness and also to provide additional community resources, such as information on Wellness Case Management, diabetes classes and Living Well Alabama classes offered by The Wellness Coalition and other community partners.

The Green Rx process seems to raise consumer awareness by allowing patients to reflect on their own daily habits and exercise routine during an interview related to those questions. Consumers have reported that good information is being provided by the Green Rx program regarding diet and exercise.

As a whole, the staff and I believe that the concept of the Green Rx process is great but can be challenging for the majority of the clients we serve, due to their education level or financial difficulties. Our staff has gained a deeper understanding over time of how to meet the consumer where they are and encourage them to be aware of what they are capable of in relation to diet and exercise choices no matter what their perceived barrier.

MAMHA will continue the Green Rx process by providing information to consumers and their caregivers. We will follow up with the clients on the program and keep educating on the importance of a healthy diet and exercise regimen as it relates to physical and mental health."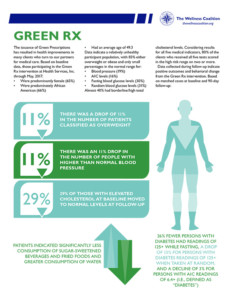 So far, MAMHA's clinics have given Green Prescriptions to 229 patients. MAMHA's data will be evaluated soon. When used by other medical providers, the Green Rx intervention has been linked to improvements in these and other patient health indicators.
Click on the graphic to the right to view the latest results from the Green Rx intervention. To learn more about Green Rx, call 334-293-6502.