Farmscape Solutions is The Wellness Coalition's newest professional partner in the promotion of healthy food access through the REACH program. Based in the Macon County town of Notasulga, Farmscape Solutions is a nonprofit organization with expertise related to the growing and distribution of fruits and vegetables. Farmscape is dedicated to sustainable regenerative farming and gardening practices and works to fulfill its vision where healthy foods will be just outside every doorstep and the knowledge to grow and use them will be available to everyone.
TWC's REACH Community Liaison, Ashley Vinson, was hired in January 2018 to carry out the REACH objectives related to healthy food and healthcare access. Ashley is working with Farmscape to coordinate technical assistance for the 14 REACH Healthy Corner Stores and 11 REACH Community Gardens. These programs have made a positive measurable impact on REACH communities since 2015. The purpose of offering technical assistance to these partners is to ensure continued healthy food access opportunities in 21 census tracts in Lowndes, Macon, and Montgomery counties in the years to come.
Partners in Wellness caught up with Ashley this month to find out how her work with Farmscape Solutions is progressing.
Ashley, I understand several community gardens were just planted and a lot of people came out to help. Did everyone have a good time?
Ashley: Absolutely! The Wellness Coalition and Farmscape partnered up with churches in the Macon, Lowndes, and Montgomery County areas to host the Community Garden Events to educate those in the surrounding areas about the benefits of having a community or personal garden. At these events, there was a lot of planting going on. The hard-work and dedication of the participants, who decided to join us, made each event a success. We even had children participate on the planting days that were held on the weekends and after school.

The children were a huge help and so eager to dig and plant. Though we had a few rainy, muggy, and hot planting days, that did not stop the participants from planting. There was a huge variety of vegetables and even some helpful flowers planted. A few of them were tomatoes, dill, basil, oregano, eggplant, squash, cucumber, zucchini, cilantro, radish, okra, sunflower, peppers (sweet & hot), and marigold.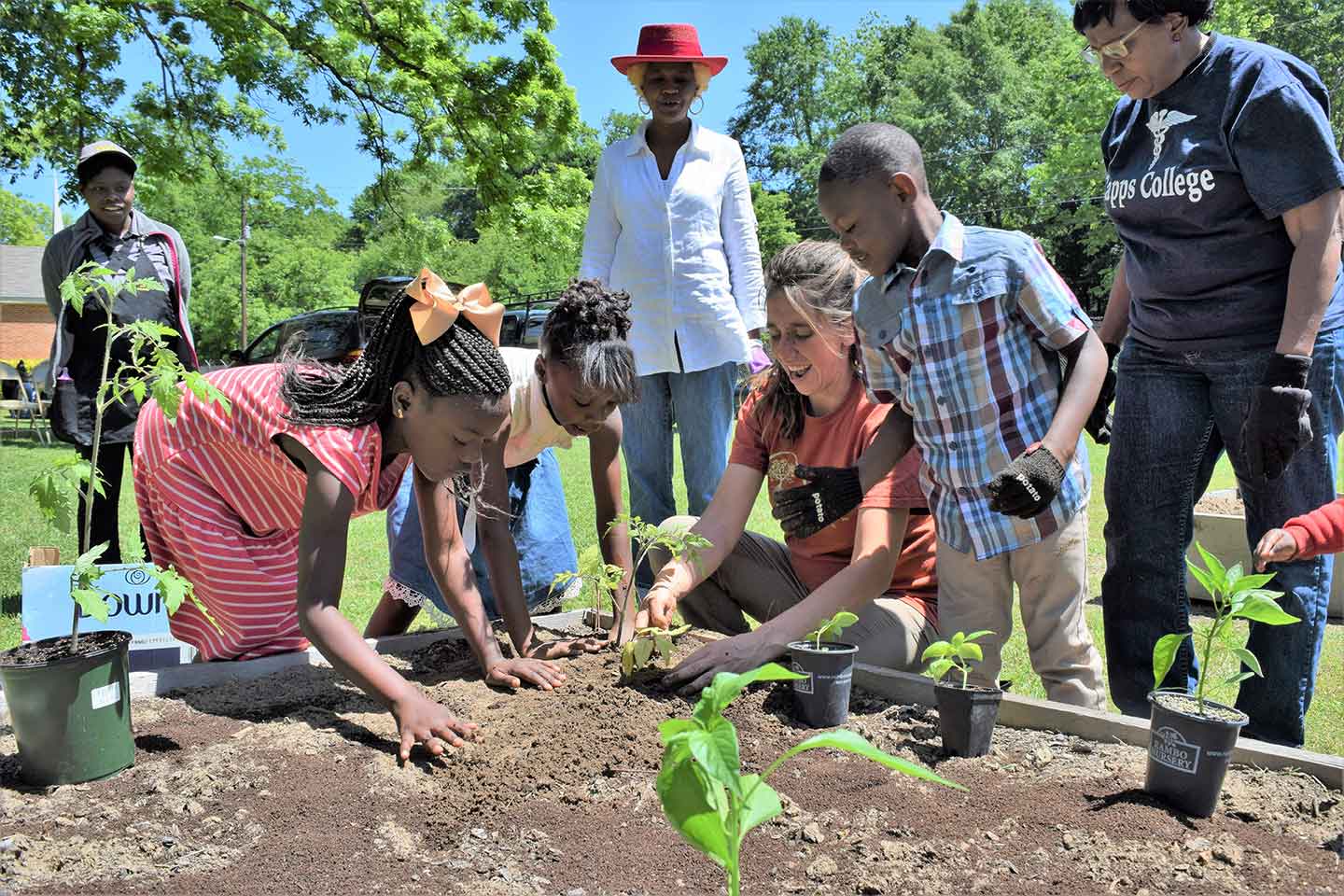 Describe the strengths and challenges that Farmscape Solutions will have as they work to strengthen existing REACH Healthy Food Access Programs.
Farmscape Solutions brings a wealth of farming and gardening knowledge to the REACH project. We are delighted to have them on board as we revisit our previous garden and store sites to ensure the sustainability of the REACH projects. They are working on establishing an online produce market of their own and can be a great resource for all of the partner sites for the future, either for gardening assistance or access to locally grown produce for resale.

The biggest challenge is that there is a large amount of geographical ground to cover and relationships to build in order to do onsite evaluation and training with each partner. For instance, Farmscape Solutions is 80 miles away from the healthy food access sites in Lowndes County. Because TWC is more centrally located within the field of partners in Lowndes, Montgomery, and Macon, we will be assisting Farmscape Solutions with communications, delivering services, and evaluating sustainable practices at each store and church. Also, the 25 sites were established over a three-year period, and Farmscape now has the challenge of serving all 25 in a short amount of time. It will take the best efforts of Farmscape and TWC to make it happen, but we are all ready for the challenge.
What support do you expect that store owners need to keep the Healthy Corner Store Programs available to the public?
Selling fruits and vegetables in corner stores is a relatively new idea and not always profitable when distribution avenues aren't there to make produce convenient and affordable to store managers. Farmscape Solutions will work with each store site to find out what is working for them with respect to the community where they are located. They will help store owners and managers figure out an ordering plan and distribution options that will suit both the store and the customer.

One of Farmscape Solutions' goals beyond providing this technical assistance is to be a connector of local farmers to local outlets or buyers. I expect that Farmscape Solutions will be able to bring many local produce options to each store over time. These local store owners and managers all care about what their customers want, and they want to market their ability to serve their community. Some stores are now going so far as to be their own supplier of the fruits and vegetables that their customers prefer.
What support do you expect church garden committees need to keep their Community Garden Training programs growing?
The garden committees at most of the churches are still actively planting produce and using their gardens for the improvement of the health of their communities. We hope to strengthen the garden training aspect of the project and encourage the churches to use their gardens as literal training grounds for their members and nearby residents to learn to plant their own gardens at home. Receiving technical assistance from Farmscape Solutions will help the garden leaders at each church become more motivated to use the gardens in such a way. Farmscape Solutions has a track record of making those who want to farm better farmers. Readers can learn more about the community workshops they offer to novice farmers in the region at farmscapesolutions.org.

Part of the technical assistance to the churches will be through the organization of a community planting day. At the planting events, the community will be invited to take part in the planting of summer fruits and vegetables in the garden beds. It is hoped that the many hands and heads involved in the planning and planting of the garden beds will continue to be involved in gardening, whether at the church site or at their own home garden site.
Community Garden Training Programs have been evaluated in past years through bi-monthly garden visits and surveys of those who attended garden training events. How will these programs be evaluated for their sustainability this year?
Community Garden Training programs will be evaluated through an initial baseline survey prior to any planned community planting day. At some point before the end of the summer, garden site leaders will be surveyed again in order to determine their learning and direction.
Healthy Corner Store programs were evaluated in past years through sales data gathered at each store and interviews conducted among store clientele. How will these programs be evaluated for their sustainability this year?
Corner store owners or managers will be interviewed through a baseline survey prior to receiving technical assistance and, toward the end of the summer, they will be surveyed again with follow-up questions.
Thank you, Ashley! We look forward to an update on the technical assistance efforts of Farmscape Solutions and your own experience of assisting with the sustainability of healthy food access options in REACH counties.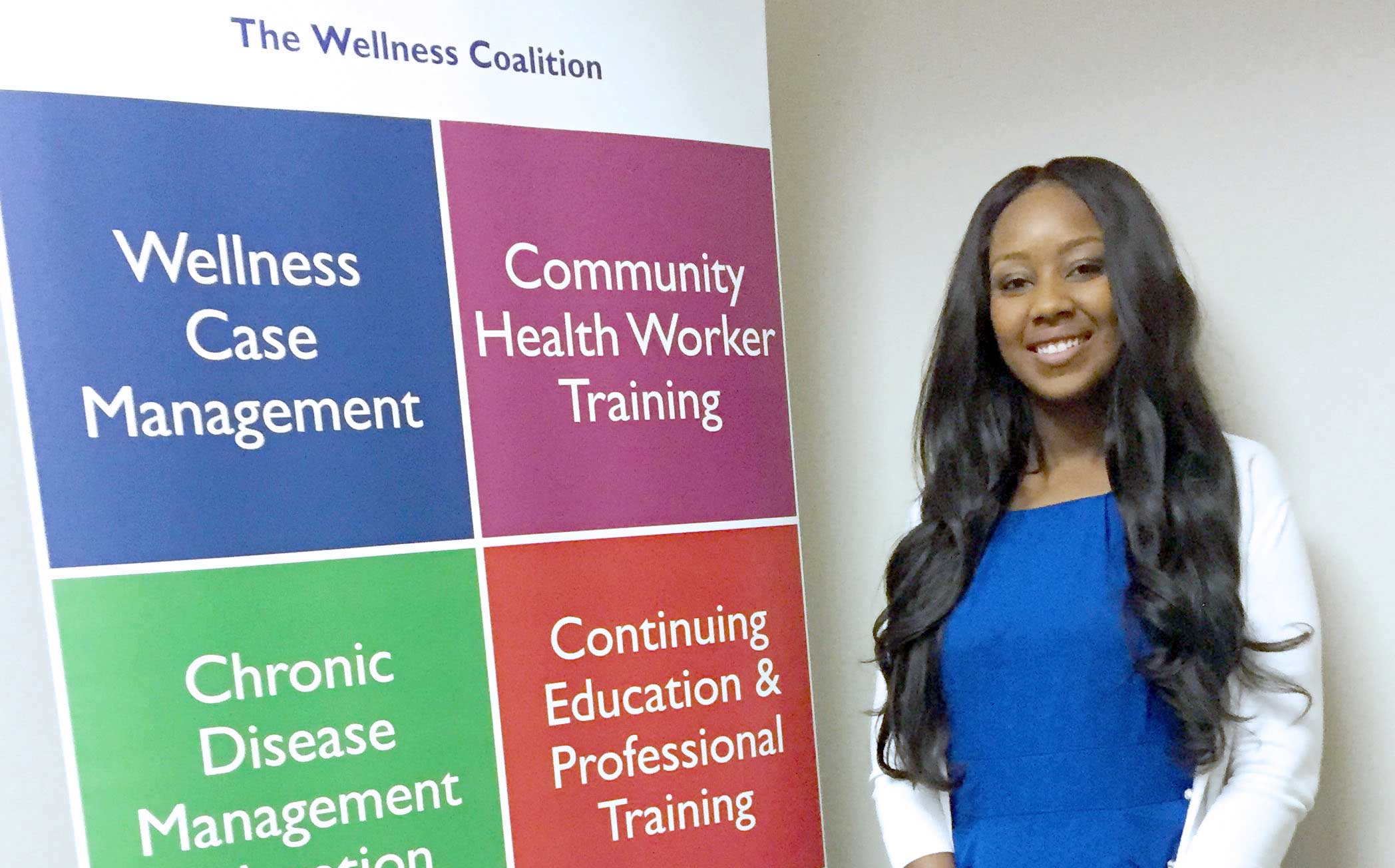 Ashley's Gallery of Gardens
First Tuskegee SDA Church
This was our very first garden event this spring. Due to the rain, the group met in the church fellowship hall for the educational part of the event. Once the rain went away, the crew went out to plant a variety of tomatoes, dill, and eggplants. They even harvested some carrots and oregano!
Snow Hill Christian Church
The rain did not let up, and neither did the planting crew. These dedicated individuals took on the rain with rain jackets and umbrellas and got some planting done. Pastor Dale Braxton and his crew are pictured planting tomatoes, peppers, dill, basil, and cucumbers. The educational session was held inside one of the church's annexes.
St. Paul CME Church
The sun began to peak through in the midst of a little rain during this planting event. Pastor Donald Craig and his garden crew were busy planting okra, tomato, eggplant, squash, and watermelon.
St. Peter AME Church
Helping hands harvested a great amount of kale and planted plenty of other plants and vegetables. The children helped plant onions, tomatoes, basil, sunflower, and watermelon. They also helped create labels to mark the beds.
Greenwood Missionary Baptist Church
Even though there was a huge annual event going on in the square of downtown Tuskegee, hands of all ages still came out to make a difference in their community. See them spreading worm casting and planting tomatoes, eggplants, carrots, beans, radish, and okra.
Notasulga United Methodist Church
In the midst of a Boston butt pick-up sale, a select few members participated in planting this garden. Pictured are participants spreading the worm-casting and planting tomato, cucumber, basil and eggplant, and spraying the beds with a probiotic tea.
Episcopal Church of the Holy Comforter
Pictured are a few members of the garden committee planting plants and seeds. They also put mulch around the blueberry trees and watered the bed. The group leader discussed her plans on using the plants harvested for the church pantry.