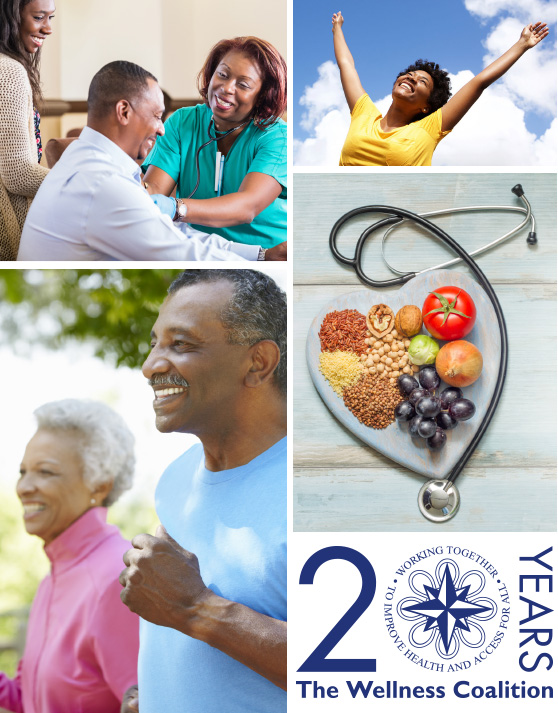 The Wellness Coalition (TWC) is celebrating 20 years of service to the River Region in 2019. In conjunction with this milestone, TWC is launching new programs to improve the health and wellness of residents in Montgomery, Lowndes, and Macon counties as part of a 5-year $3.9 million cooperative agreement with the Centers for Disease Control and Prevention (CDC).
Funded by the CDC's Racial and Ethnic Approaches to Community Health (REACH) program, TWC is working to:
Promote tobacco-free living and protect people from secondhand smoke exposure
Improve access to healthy foods and establish healthy nutrition standards
Support breastfeeding through training and support
Increase referral and access to community-based health programs
"This is a big year for The Wellness Coalition," said Molly Stone, executive director of The Wellness Coalition. "We are not only celebrating the vision of our founders but we are also moving our mission forward with new programs as part of the REACH cooperative agreement."
THE NEED FOR THE REACH COOPERATIVE AGREEMENT IN THE RIVER REGION
Alabama ranks among the top states in the nation for the prevalence of heart disease and diabetes. In fact, heart disease is the leading cause of death, and diabetes is the sixth leading cause of death in the state. These numbers are even higher in minority communities, with African Americans having a cardiovascular disease mortality rate and diabetes rate higher than Caucasians.
"The River Region has strength in its people, its history, and its vision for a better future," said Stone. "However, it bears the burden of high rates of chronic disease."
According to the Trust for America's Health and Robert Wood Johnson Foundation's The State of Obesity 2018 report, Alabama ranks:
Fifth in the nation with more than 36 percent of adult Alabamians classified as obese
Third in the nation with more than 14 percent of Alabamians diagnosed with diabetes
Second in the nation with more than 41 percent of Alabamians diagnosed with a form of hypertension
A 2013 study conducted by the CDC revealed that rates of diabetes were even higher in Lowndes (23.5 percent) and Macon (18.4 percent) counties. Additionally, it is estimated that one in three adult Americans has prediabetes—a chronic condition where a person's blood glucose (sugar) level is higher than normal but not high enough to be diagnosed as diabetes. Without losing weight or increasing physical activity, people with prediabetes may develop type 2 diabetes within just three years, and most people don't know they are at risk.
"Many people in the River Region, particularly those in minority groups, are at risk due to insufficient knowledge, resources, or support to make healthy lifestyle changes such as healthy eating, regular physical activity, and chronic disease prevention or management," said Stone. "Without implementing changes that affect community and societal risk factors for chronic disease, more people will be added to the count of those whose lives are burdened by these disparities."
The REACH cooperative agreement includes tobacco cessation and breastfeeding support as additional means to combat chronic disease. Tobacco has long been linked to chronic disease. Meanwhile, there is a growing amount of evidence indicating infants who are breastfed may have lower rates of obesity, hypertension, diabetes, and other chronic diseases in adulthood.
"The most effective way to fight chronic disease is to address all factors in a person's life that may be contributing to chronic conditions," said Stone. "We're no longer talking solely about eating healthier and exercising. Rather, we're working to educate and support people in every area of life that can impact health and wellness."
20 YEARS OF IMPROVING HEALTH AND WELLNESS FOR THE MOST VULNERABLE MEMBERS OF OUR COMMUNITY
In 1999, the challenge of treating the health care needs of uninsured adults in the Montgomery area was falling on local emergency rooms and straining important medical resources.
To confront this burden, a group of nine safety net health care providers came together to share information and seek solutions to reduce the economic impact of serving the uninsured and to increase patients' quality of life. The group included:
Alabama Department of Public Health Area VIII
Baptist Health
Community Care Network
Health Services, Inc.
Jackson Hospital
Joint Public Charity Hospital Board
Medical Outreach Ministries
Montgomery Area Mental Health Authority
Montgomery County Health Department
These organizations joined forces to form what is now known as The Wellness Coalition. Today, TWC provides services for Autauga, Elmore, Lowndes, Macon, and Montgomery counties.
"Now in its 20th year, The Wellness Coalition remains committed to its mission to coordinate services to improve the health and wellness of people with limited or no health insurance in the River Region," said Stone.
The Wellness Coalition's work now includes direct services to residents, at no cost to them. The hallmark of these services is wellness case management, a service to help those with little or no health insurance—including those who use emergency rooms for regular care—find a doctor, get needed medications, and connect to other services to manage chronic diseases. Wellness case managers also work one-on-one with their clients to help them set wellness goals and work to achieve them.
Additional programs offered by TWC also provide:
Chronic disease self-management
Diabetes self-management
Diabetes prevention
Mental health first aid
Health insurance enrollment assistance
Guidance for setting up health ministries in churches
Training of lay leaders to provide wellness education to their communities
Training of other agencies so they can provide similar wellness case management services
Continuing education for nurses, social workers, and other healthcare providers
The key to The Wellness Coalition's ability to offer so many services is their dedication to collaborating with other community leaders, agencies, and partners.
"Bringing service providers to the table to work together is the hallmark of the Coalition's founding strategy," said Stone. "Today, we continue using the proven methods of partnership and collaboration to solve community problems and improve the quality of life for everyone in the River Region."