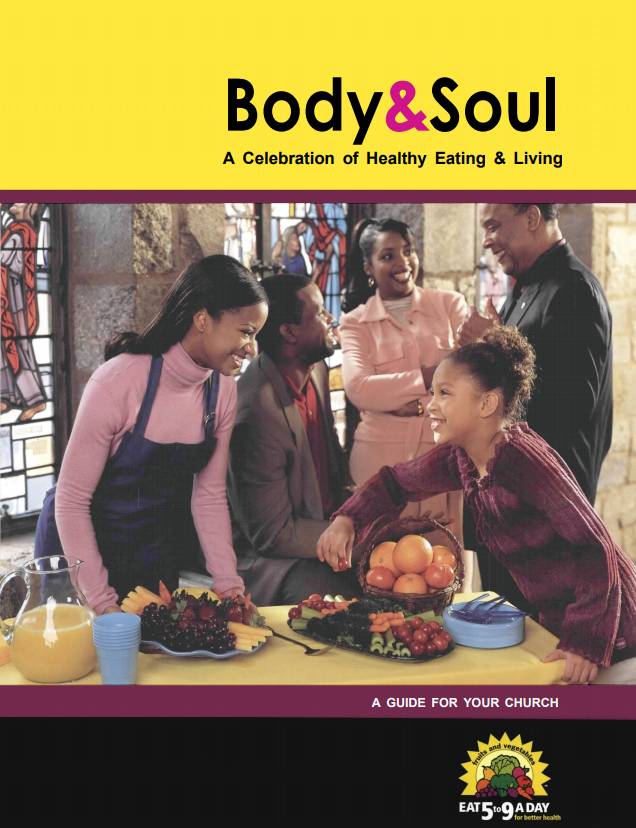 According to the Centers for Disease Control and Prevention, African Americans have a higher chance of heart disease, diabetes, and other chronic health concerns than other races. These health concerns, if not managed, can shorten life span. In the River Region, there has been an increasing need to expand opportunities for positive health behaviors and address the social and environmental causes of poor health related to these chronic conditions.
Church-based nutrition interventions offer a unique opportunity to increase fruit and vegetable consumption. For fruit and vegetable promotion programs to be widely implemented, they must be proven effective even when delivered by nonprofessional personnel, who receive less training and supervision than those carrying out efficacy studies. Black Churches United for Better Health and Eat for Life are two nutrition education programs that have been efficacy tested and combined to undergo effectiveness testing in this investigation.
Body & Soul: A Proven Program
Body & Soul is a combination of the effective components from the Black Churches United for Better Health and Eat for Life programs. The components include church-wide nutrition activities such as:
A kick-off event
Forming a project committee
Conducting at least three nutrition events, plus one additional event involving the pastor
Making at least one policy change (e.g., establishing guidelines for the types of foods served at church functions or changing snacks served at youth camps)
Hosting guest speakers
Cooking demonstrations and taste tests
Providing self-help materials such as a cookbook, video, and educational pamphlets
Lay church volunteers conduct at least two motivational counseling calls to members
Body & Soul is designed to lower the rate of health concerns among African Americans while improving eating habits. Four programmatic pillars are used to make the program successful, including:
An involved pastor
Church activities that promote healthy eating
A church environment that promotes healthy eating
Peer counseling that promotes individual and small group motivation
Informed by the belief that healthy eating and living is as good for the body as it is for the soul, Body & Soul is a guide to improving individual behaviors and institutional policies, systems, and environments as they relate to healthy food choices. Body & Soul allows for the many talents of church members to be utilized in program implementation. Churches have found the most success with this program when they incorporate it into already existing programming and continue to use it through activity planning.
Implementation Assistance from The Wellness Coalition
Church leaders interested in the Body & Soul program can customize a provided toolkit in order to make it fit the individual needs of their church. The Wellness Coalition will provide professional assistance to churches wanting to implement policy, system, and environmental change into new or ongoing health ministries at their churches. For more information, call (334) 293-6502.