Lay Leader Training with Living Well Alabama
The Wellness Coalition can train representatives of your church, nonprofit organizations, or business to teach the Living Well Alabama program! This program can be the start of or an enhancement to your health ministries, support groups, community outreach and more. Up to four representatives of your organization can be trained and will be given all the tools and materials needed to teach others how to "live well" with chronic diseases. Training of your representatives can be completed in one week. 
What Is "Living Well Alabama"?
Living Well Alabama is a Chronic Disease Self-Management Education (CDSME) program.  The program is a 6-week series of weekly classes that teaches real-life skills for living a healthy life.
This program provides participants with the necessary tools for managing a healthy and positive environment while learning to live full and healthy lives with chronic conditions such as diabetes, arthritis, asthma and heart disease. Within these interactive classes, participants will build confidence, learn how to be successful in their day-to-day normal activities, and learn how to effectively deal with emotions that may be present because of a chronic condition diagnosis.  
The Living Well Alabama program was created to empower each participant to use self-management tools to become an active manger of their health.  This program focuses on topics that are common to individuals and their families who are dealing with any chronic condition such as:
Managing Symptoms/ Pain Management

Medication Usage

Working with your Provider and Health Care Team

Creating Action Plans and Setting Weekly Goals

Effective Problem Solving and Decision Making Skills

Enhancing Your Communication

How to Relax

Handling Difficult Emotions

Tips for Eating Well

Safe Physical Activity
The 2.5 hour Living Well Alabama class is conducted once a week for six-weeks and is open to members of the public who may have a chronic condition, as well as their friends, family members or caregivers.  
For more information about hosting or taking these classes, please call 334-293-6502.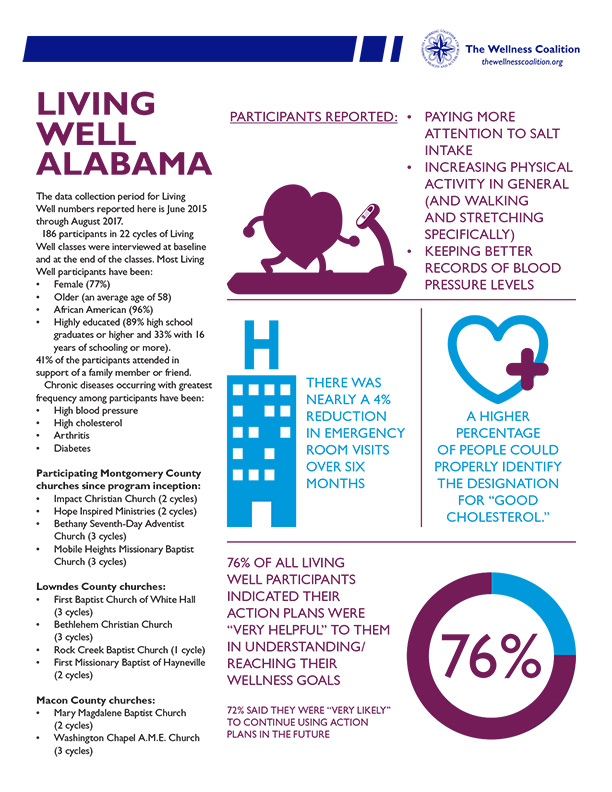 See the results from our latest Living Well Alabama survey.